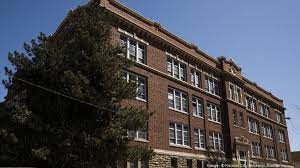 US$27.2 million loan secured for Westport High School redevelopment project in Missouri
Dwight Capital, one of the largest commercial real estate finance companies in the United States, has closed a transaction to provide US$27.2 million in HUD-backed construction financing for the Westport High School redevelopment project in Kansas City, Mo.
Located at 315 East 39th Street, Westport Secondary School opened in 1907 and closed in 2010, after which it was added to the National Register of Historic Places in 2015. HP Development Partners 2 purchased the 4.86-acre land in 2016 for an unknown sum as part of a Kansas City Public Schools Repurposing effort that seeks innovative methods to encourage reuse of its closed school facilities.
Westport High School Redevelopment Project Overview
Look for construction leads
Developped by Andrew Brain of the Brain Group and EF Chip Walsh of Mercier Street, the Westport High School redevelopment project aims to convert the school building which is in need of "significant repairs" into a multi-family mixed-use complex. "This project is well positioned for success due to its location and the multiple investments, public and private, that are being made in the surrounding region," Walsh said in a statement.
Also Read: Mississippi River Flood Wall Project Opens Caruthersville, Missouri
The apartments in the Westport High School redevelopment project will have a clubhouse, rental office, business center, exercise center, dog park, cinema, community halls and security services. concierge once completed. Existing classroom space will be used for living units, which will span 100,555 square feet, while an annex built in 1992 will be converted into 24,000 square feet of commercial space.
Learn more about Dwight's HUD deal
Dwight's US$27.2 million HUD deal, which also includes a 0.25% decrease in green mortgage premium as the Westport High School redevelopment project qualifies as green housing and energy-efficient, was led by Steven Hunt, a senior Dwight initiator.
In addition to Dwight's debt financing, construction will be funded using historic state and federal tax credits.